May 2014 Recital
---
Solo and ensemble piano and guitar pieces were performed at River Hills Country club on Sunday, May 4th, 2014.

Students performing included:
Owen Branch, Mason Branch, Zoe Muiruri, Anna Marie West, Avery Conklin, Katie Link, Connor Love, Austin Love, Kate Morris, Caroline Lostetter, Alexandra Lostetter, Deven King, Hunter Hoak, Michael Vanderlip, Margaret Lostetter, Samantha Wilson, Macy Price, Abby Renner, Nolan Cathers, Joseph Crovi, Tabitha Porter, Jenna Kerkman, Garrett McCord, Ben Wilson, Emily Park, Delaney Quin, Peighton Quin, Harry Snow, Alex Wilson, Mary Katherine Mooney, and Gabrielle Hoang.



Pictured: Dan Barnaba, Mrs. Joanne Barnaba, and piano student Harry Snow.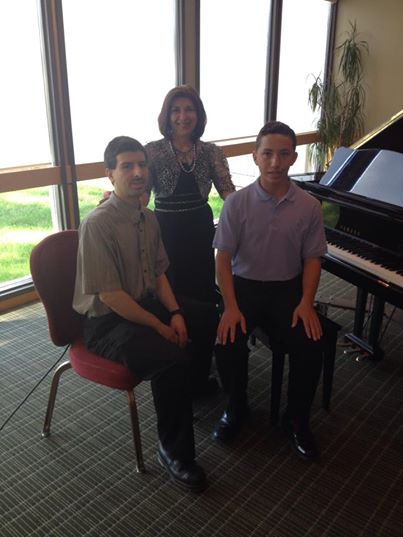 ---
---
This webpage is maintained by David Barnaba
Copyright © 1995-2013 Crasheroar Computer Productions