NATIONAL GUILD OF PIANO TEACHER AUDITIONS, 2013
---

Piano students of Joanne Marie's School of Piano, Mrs. Joanne M. Barnaba, and Dan Barnaba, instructors, recently participated in the new National Guild of Piano Teachers audition center at River Hills Community church in Lake Wylie, SC.
Students received Local, District, State, & National honors, and have become members of the National Fraternity of Student Musicians. Students memorized and performed from 2- 10 memorized pieces each.
Students participating included: Dae Bigach, Mason Branch, Gabrielle Hoang, Aaron Klazinga, Abigail Klazinga, Joanna Klazinga, Grace Mooney, Emily Park, Tabitha Porter, Delaney Quin, Emily Quin, Alex Wilson, Ben Wilson, and Lauren Williams.
Adjudicator for the event was Mrs. Sue Aceves from Whispering Pines, NC.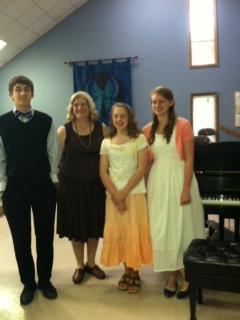 Photo features the Guild judge, Susan Aceves, and students Aaron Klazinga, Abigail Klazinga, and Joanna Klazinga
---
This webpage is maintained by David Barnaba
Copyright © 1995 Crasheroar Computer Productions